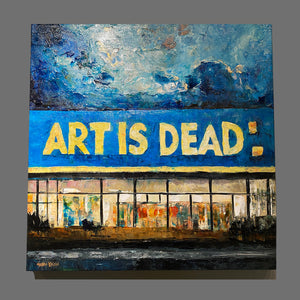 Blockbuster Painting
Regular price $900.00 Sale
Original one of a kind painting created by local painter, Stephen Kasun. The inspiration was to take an image from the Art is Dead Series and create an original painting based on the piece.
Art is not only alive and well, this series created original artworks showing once again creators and makers will make, no matter the original inspiration. 

Using only palette knives the painting has a rich impasto and great movement. You feel as if you're standing in front of the building watching the clouds roll over head.
Acrylic on canvas. Painted edges and ready to hang, no frame necessary. 
Dimensions: 20" x 20"
These items are part of a Gallery Exhibition with a showing on Feb 10th. We will ship any orders for these items on February 14th. 
Made in Savannah